Honoré Ngbanda et l'APARECO: Boite à Diffamation ou Source de Lumière ?
Par Sloj, S. Litofe, PHD
Political Economy & Public Policy,
Spécialist in Comparative and Developmental Economy
sloj4214@sbcglobal.net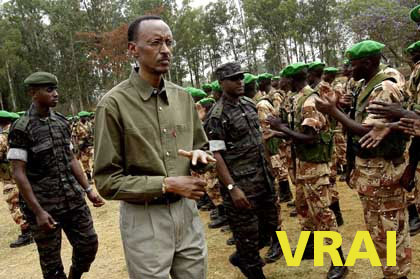 Cette photo, n'est autre que celle publiée dans BBC: Thursday, 30 March 2006, 10:14 GMT 11:14 UK. Le Titre de l'article c'est bien: " Rwandan soldiers arrive in Sudan "
( http://news.bbc.co.uk/2/hi/africa/3562096.stm )
Comparez la VRAIE photo ci-haut, et la fausse ci-dessous.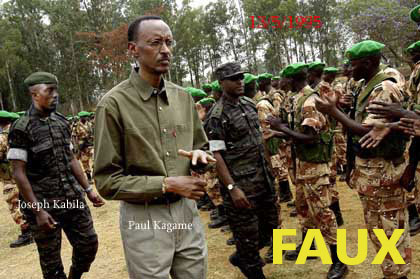 Observez que l'on a simplement remplacé la tête du jeune
Soldat rwandais d'avec celle du Président Kabila.
C'est de cette façon que certains de nos compatriotes avaient altéré les photos de l'arrestation de Charles Taylor, en substituant sa tête d'avec celle de Bemba. Ceci, pour souligner le fait que le massacre de plus de 4 millions de nos compatriotes ne restera jamais impuni. Leurs auteurs seront, tôt ou tard et coûte que coûte, traduits en justice.
VRAI : Charles Taylor aux arrêts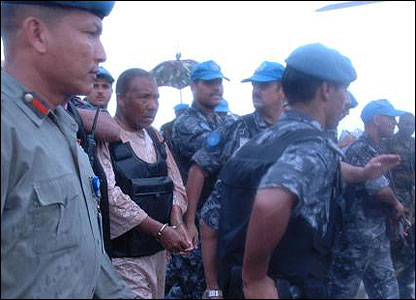 Ci-dessous Bemba aux arrêts: FAUX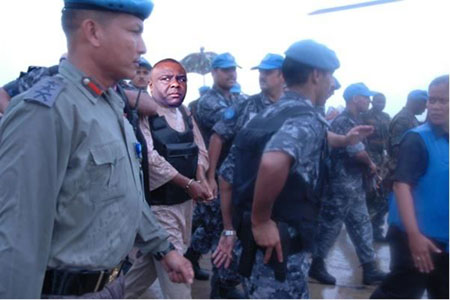 Cette seconde photo n'est autre que la photo ci-haut de M. Charles Taylor falsifiée. Bien plus, contrairement à M. Honoré Ngbanda et son Alliance des Patriotes pour la Refondation du Congo, APARECO en sigle; Les auteurs de celle-ci ont pris soin de mentionner en bas de leur analyse que la photo ci-haut était fausse.
Images of former Liberian President Charles Taylor
On his way from Nigeria to Sierra Leone to face war crimes charges
( BBC: Thursday, 30 March 2006 , 10:14 GMT 11:14 UK )

Former Liberian President Charles Taylor disembarked from a Nigerian plane at an airport in Monrovia , Liberia , after being captured trying to flee Nigeria on Wednesday.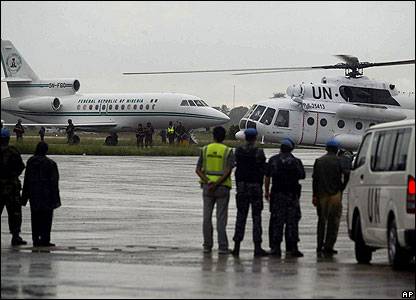 He was taken straight to a UN helicopter, after Liberia 's new president said she wanted the indicted war criminal in Liberia for as short a time as possible.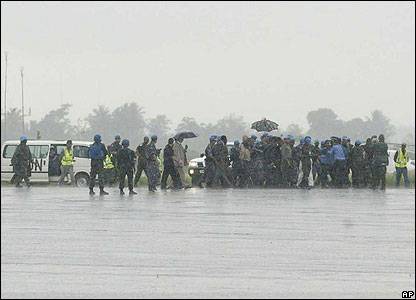 His short walk across the tarmac, surrounded by security and diplomatic personnel, was undertaken in a downpour.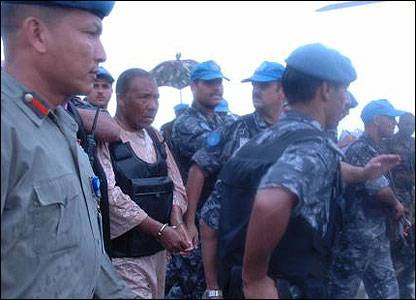 Pictures of Mr Taylor in handcuffs after years at liberty will delight many people in Liberia and Sierra Leone , but dismay his remaining supporters in Liberia .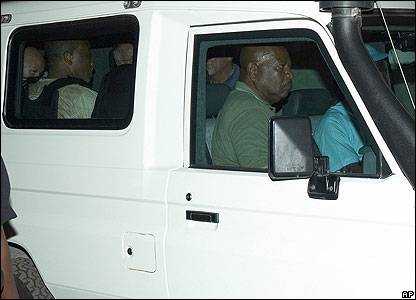 Under tight security, the helicopter transferred him to neighbouring Sierra Leone , where Mr Taylor is due to be tried by a UN-backed war crimes court.
Mr Taylor was whisked off to a cell at the court complex in Freetown , where he joined other suspected war criminals.
Remarques Finales :
En altérant les photos de Kagamé pour induire le peuple congolais en erreur en le soulevant injustement contre Kabila Junior; M. Honoré Ngbanda et son APARECO viennent de signer leur mort Politique. En effet, si jusqu'ici bon nombre de nos compatriotes leur accordaient le bénéfice du doute, en clamant tout haut que Honoré s'est amendé, l'homme s'est réhabilité; Ils viennent de découvrir que Honoré est resté le même. Ses instincts mobutistes consistant à fabriquer les évidences pour politiquement noyer ses adversaires; Ou carrément les faire disparaître physiquement, sont restés intacts. Dommage pour un homme de Dieu de la trempe d'Honoré qui, apres nous avoir induit en erreur depuis plus de deux decennies, continue a fabriquer des histoires pour continuer à induir le peuple en erreur!
Ce genre de calomnies doit être dénoncés avec force. Bien plus, leurs auteurs ainsi que leurs commanditaires doivent être identifiés et traduits en justice. Qu'on se le dise et à haute voix: Sans Justice, point de Démocratie et ses positives attribues.
Sloj, S. Litofe, PHD
Political Economy & Public Policy
Fulbright and World Bank scholar
sloj4214@sbcglobal.net
==========================
Ci-joint L'Article de BBC:
Rwandan soldiers arrive in Sudan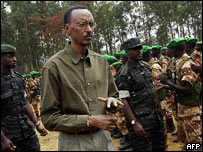 Kagame said soldiers would use force to protect civilians, if needed
Rwandan troops have arrived in Sudan to help protect African Union (AU) ceasefire monitors in the war-ravaged western region of Darfur .
"We welcome the 150 Rwandan soldiers," Sudanese Foreign Minister Mustafa Ismail told reporters.
He said 150 Nigerian soldiers would join the protection force this month.
The small AU team is overseeing a ceasefire between Khartoum and two rebel groups in Darfur , where fighting has claimed 50,000 lives.
Desert town
BBC correspondent Ishbel Matheson says there has been an upsurge of Sudanese refugees fleeing across the border into Chad on Sunday amid reports of renewed military activity in Sudan .
The United Nations refugee agency UNHCR said about 500 people crossed the border close to the Chadian village of Berak and further north in Bahai.
DARFUR CONFLICT

Over 1m displaced

Up to 50,000 killed

More at risk from disease and starvation

Arab militias accused of ethnic cleansing

Sudan blames rebels for starting conflict
The refugees spoke of a second wave of violence, our correspondent says.
The Rwandan contingent had landed in El Fasher, the capital of Northern Darfur state.
The BBC's Barnaby Phillips in El Fasher says the soldiers were regarded with some suspicion by Sudanese government officials and soldiers as they filed off the aircraft.
Tens of thousands of people flocked from the surrounding desert to watch their arrival.
The UN has said the deployment of 2,500 AU peacekeepers is being considered but Sudan has voiced opposition to such a large force.
Mr Ismail said it would be unacceptable for African Union troops to fight the Arab militiamen, the Janjaweed, who have been accused by aid workers and refugees of ethnic cleansing.
"If those forces were to enter into clashes with the Janjaweed and armed militia, this would create an unfavourable climate," he said, the state-controlled Sudan Media Centre reports.
In a radio address, Sudanese President, Omar al-Bashir blamed unnamed enemies for the crisis in Darfur and said his government was capable of restoring security in the region.
Kagame's pledge
More than a million people have been driven from their homes since the conflict started 18 months ago.
On the edge of El Fasher a vast city of tents and makeshift huts is home to thousands of displaced people.
President Paul Kagame said the Rwandan troops would use force if necessary to protect Sudanese civilians, according to the Associated Press.
"If it was established that the civilians are in danger then our forces will certainly intervene and use force to protect civilians.
"In my view it does not make sense to give security to peace observers while the local population is left to die."
Fighting continues
UN special envoy Jan Pronk has said he wanted many more African observers in Darfur .
He said that progress had been made in talks with the Sudanese government about the establishment of 20km wide safe areas around giant refugee camps in Darfur .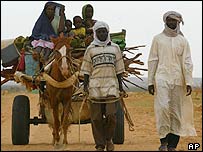 More displaced people arrive in camps every day in Darfur
Under the proposal, which is expected to be finalised in the coming days, neither soldiers nor the pro-government Janjaweed militia would be able to carry weapons of any kind in these areas.
Despite the progress in Khartoum , Mr Pronk acknowledged that fighting was continuing in Darfur , with Janjaweed fighters ignoring official instructions to end attacks.
Peace talks due to take place in Abuja on 23 August between all parties in the conflict - the Sudanese government and the two rebel groups - will go ahead, Mr Pronk said, despite uncertainty about whether the rebel groups will attend.
=================================