Humanitarian Crisis in DR Congo
Horrible images of Congolese fleeing villages and Goma in North Kivu Province , Eastern Congo, by fear of being killed by Rwandese troops and militias led by Laurent Nkunda. By the way, many Nkunda's men only speak Kinyarwanda and English. Go figure!
Rebels execute civilians in break of ceasefire >>>
Les dirigeants africains et l'ONU appellent au cessez-le-feu >>>
A Kiwanja, dans l'est de la RDC, un homme constate la mort de deux civils,
tués dans le massacre qui a eu lieu entre mercredi 5 et jeudi 6 novembre.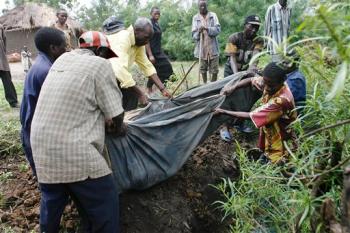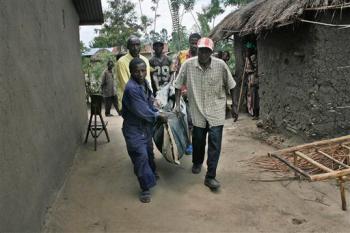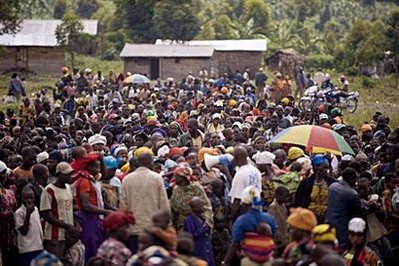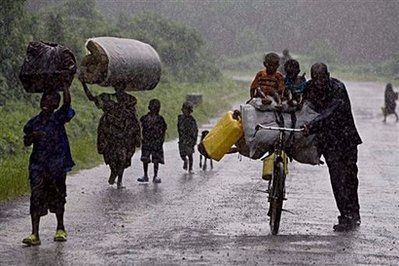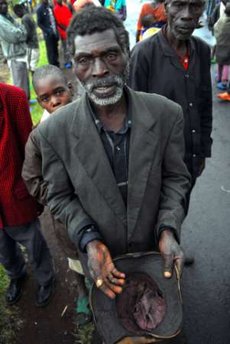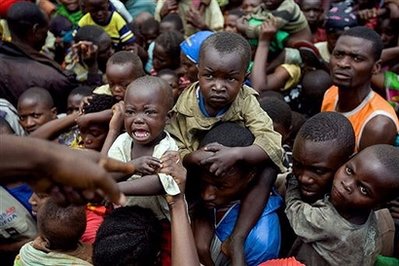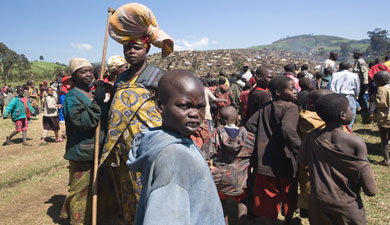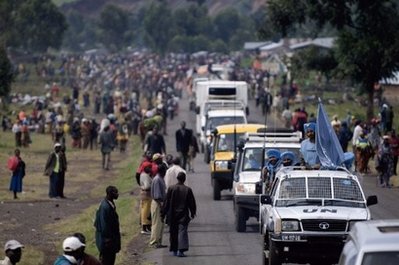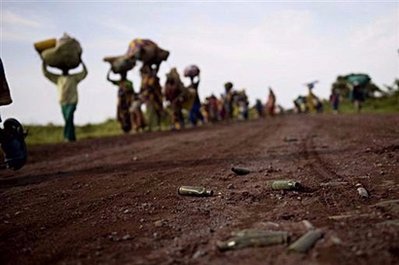 Violence extrême perpétrée par l'armée rwandaise, plus de 50.000
civils de deux camps des déplacés massacrés.

Nkunda's brother is dancing about the situation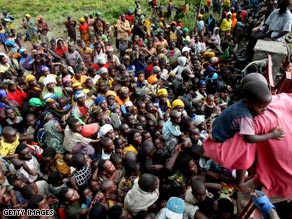 A crowd of refugees gathers at the entrance to a USAID center
near Goma in the Democratic Republic of Congo.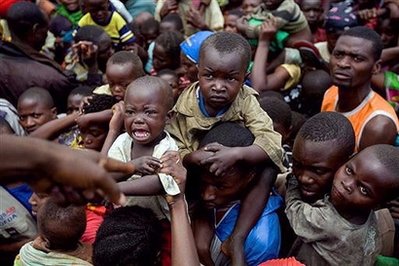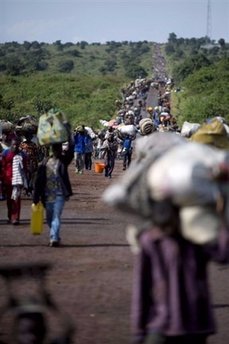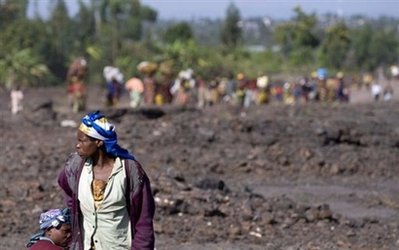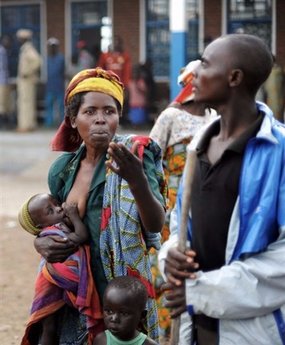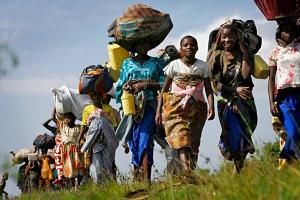 1,6 million de déplacés pris au piège au Congo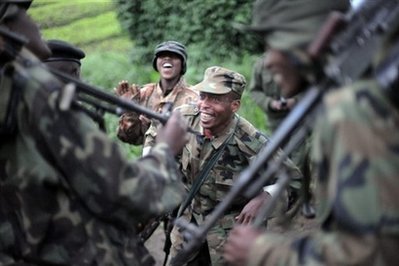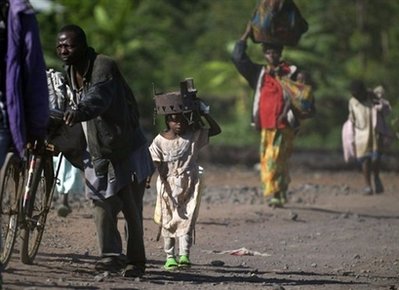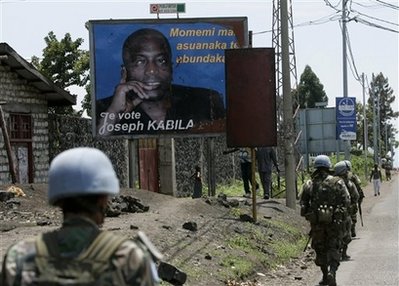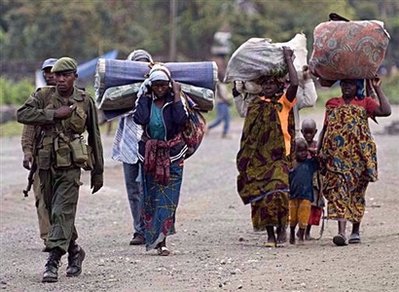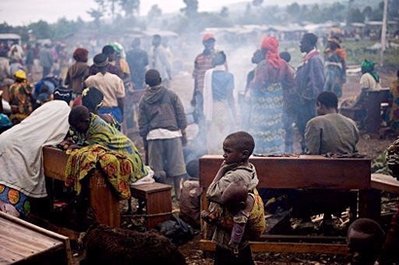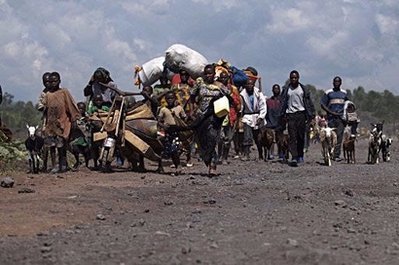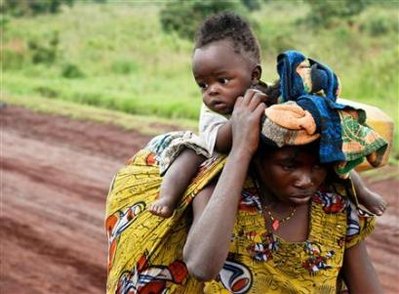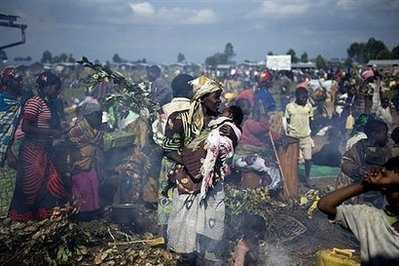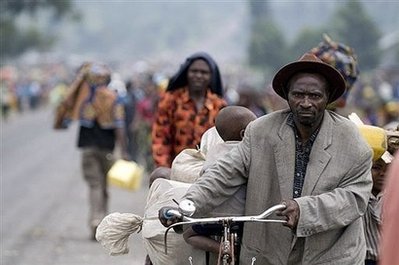 Les hommes de Nkunda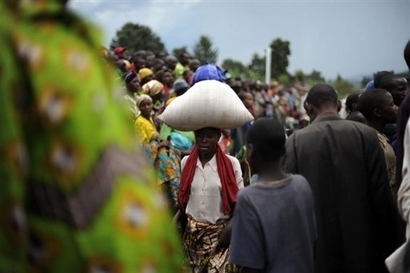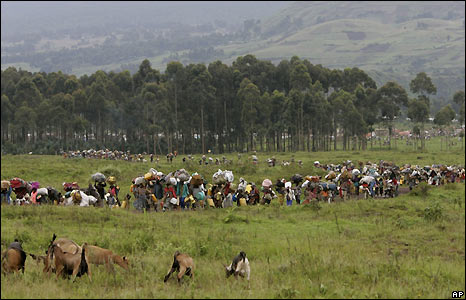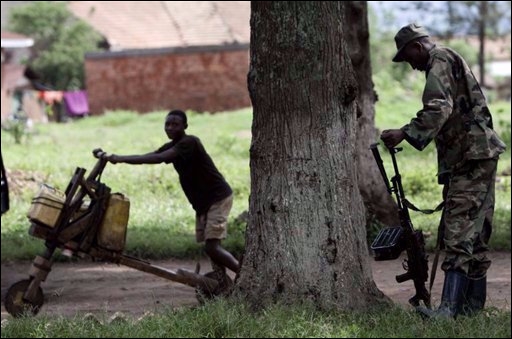 © Congo Vision
---
DR Congo refugee camps 'burned'
The UN says it has credible reports that camps sheltering 50,000 displaced people in eastern Democratic Republic of Congo have been destroyed.
Reports suggest the camps were forcibly emptied and looted before being burned, the UN refugee agency, the UNHCR, said.
Aid groups say they are struggling to reach an estimated 250,000 people in the region fleeing fierce fighting between government and rebel forces.
---
RDC: 50.000 personnes sur les routes, expulsées de camps de déplacés
(HCR)
AFP: 31 oct. 08 - 14h44
GENÈVE, 31 oct 2008 - Plusieurs camps de déplacés proches de la ville de Rutshuru, dans l'est de la République démocratique du Congo, ont été vidés de force par les rebelles, jetant sur les routes environ 50.000 personnes, a annoncé vendredi le Haut commissariat de l'ONU pour les réfugiés (HCR).

"Plusieurs camps de personnes déplacées près de la ville de Rutshuru dans le Nord-Kivu, à 90 km au nord de Goma, ont été vidés par la force, pillés et brûlés", a déclaré devant la presse le porte-parole du HCR Ron Redmond.

Selon le rapport "crédible et provenant de plusieurs sources humanitaires sur place", les exactions ont été commises "par les troupes rebelles", a-t-il précisé à l'AFP.

---
Rebels tighten their grip in eastern Congo
By MICHELLE FAUL, Associated Press
TONGO, Congo – Tutsi-led rebels tightened their hold on newly seized swaths of eastern Congo Saturday, forcing tens of thousands of frightened, rain-soaked civilians out of makeshift refugee camps and stopping some from fleeing to government-held territory.
Aid organizations said they were increasingly worried about a lack of food and shelter.
European officials offered sympathy but no concrete promise of military reinforcements for the Congolese troops and U.N. peacekeepers routed by rebel forces in the sudden and dramatic escalation of eastern Congo's civil war in the past week.
The rebels appeared to be maintaining a unilateral cease-fire they declared a day earlier, focusing on consolidating territories that stretch to the doorstep of the provincial capital, Goma, instead of taking the city.
The rebels, who said people were leaving the refugee camps of their own free will, asserted that they stopped short of Goma in hopes of stopping the chaos that had engulfed it as government troops fled along with tens of thousands of refugees. However, Goma was also the site of rebel leader Laurent Nkunda 's greatest defeat when U.N. attack helicopters fired on his fighters advancing on the city in December, killing hundreds of them. It was not clear if that experience influenced his decision.
The area that Nkunda has seized is a minerally and agriculturally rich area that commands much of the access to the Rwandan and Ugandan borders.
Britain's minister for Africa said the U.K. could send troops if Nkunda's cease-fire fails but the first reinforcements should be soldiers deployed elsewhere in the country with the U.N. force known by its French acronym, MONUC.
British Foreign Minister David Miliband, who rushed to the region with French Foreign Minister Bernard Kouchner after the outbreak of fighting, downplayed the possibility of an EU peacekeeping force.
"Nothing is being ruled out, and that remains the point," he told reporters in the Rwandan capital after leaving a refugee camp outside Goma. "But we have a 17,000-strong MONUC force, and that is of course the first call for security support in the Congo."
Kouchner said his government was committed to humanitarian assistance, but not necessarily sending in troops.
"I repeat, 17,000 soldiers are already deployed," he said.
In Rutshuru, a large town 45 miles (75 kilometers) north of Goma, two groups of refugees hefted bundles of belongings as they plodded home. Some said they were forced by the rebels to leave camps for displaced persons.
"They beat us with sticks and told us that we must get out," said Daria Nyarangaruye, a silver-haired woman with a rosary around her neck and a spent bullet in her hand.
Nyarangaruye said she had been forced on Saturday to leave a camp near peacekeepers in Tongo, a hilltop town in the shade of volcanic Mount Nyiragongo . She spoke near her home by a roadside six miles (10 kilometers) from Rutshuru.
Associated Press journalists also saw rebels blocking civilians who wanted to cross front lines to return to government-held areas.
Most refugees wouldn't give details or their names for fear of retaliation.
A rebel leader who introduced himself as Maj. Muhire said refugees were leaving voluntarily. He said they were being "held hostage" at camps by government troops before the rebels arrived and rebels had told them they were free to go because the area was "liberated."
Rebels inaugurated a new local administration in Rutshuru and held a celebratory rally but only about 500 people showed up at the stadium venue, most of them unenthusiastic.
The French aid group Doctors Without Borders said it was "extremely concerned about the tens of thousands of people currently on the move, fleeing the fighting." It said they were in "urgent need of clean water, basic items like blankets and shelter materials, and food."
Dozens of people already have died of cholera or severe diarrhea for lack of clean water.
Nkunda told the AP by telephone on Saturday that he has opened a humanitarian corridor to allow refugees to come home and for aid to get through.
But there was no sign of any food getting through Saturday, with aid workers saying some contractors are refusing to move food because of the insecurity.
Aid workers who tried to distribute food six miles (10 kilometers) north of Goma on Friday stopped because there was a near-riot among refugees, some of whom said they had not eaten for three days.
Kouchner and Miliband met with Congo President Joseph Kabila Saturday before flying to Goma, where they immediately went to visit refugees.
They arrived at the camp at sunset as people were wandering around with their bundles of belongings in search of a dry spot to spend yet another night in the open.
Kouchner said he and Miliband want "to understand why, despite so many efforts, no peace has come, why there have to be hundreds of thousands of people forced into a horrific situation. Why? Why?"
Nkunda's rebellion has threatened to re-ignite the back-to-back wars that afflicted Congo from 1996 to 2002, drawing in a half dozen African nations.
The conflict is fueled by festering ethnic hatred from Rwanda 's 1994 genocide and Congo's unrelenting civil wars. Nkunda claims Congo's government has not protected Tutsis from the Rwandan Hutu militia that escaped to Congo after helping slaughter a half-million Rwandan Tutsis.
All sides are believed to fund the conflict by illegally mining Congo's vast mineral riches, giving them no financial interest in stopping the fighting.
The newly appointed minister of mines, Martin Kabwelulu Labilo, asked about this exploitation on independent Raga TV, said the stripping of the country's mineral wealth was "a geological and economic catastrophe" that caused him "huge shame."
___
Associated Press Writers Anita Powell in Kigali, Rwanda , Cecile Roux in Paris and David Stringer in London contributed to this report.
---
West presses Congo, Rwanda leaders to avert tragedy
by Francois Ausseill Francois Ausseill – Sun Nov 2, 3:17 am ET
GOMA, DRCongo (AFP) – Thousands of civilians displaced by conflict languished on the roads of east Congo Sunday as Western powers pressured Congolese and Rwandan leaders to prevent "another Rwanda " tragedy.
In their new strongholds, victorious rebels tried to reassure tens of thousands of civilians thrown on the roads by the latest fighting, but touring diplomats and aid groups said a catastrophe was looming.
British Prime Minister Gordon Brown , speaking during a trip to the Gulf, told reporters Saturday the international community must "not allow Congo to become another Rwanda," where 800,000 people died in the 1994 genocide.
Earlier, on a joint European Union mission to defuse the crisis, French Foreign Minister Bernard Kouchner and British counterpart David Miliband pressed Congolese and Rwandan leaders to support a four-day-old ceasefire.
"The humanitarian need is absolutely pressing," said Miliband, who toured the area of Goma, capital of Nord-Kivu province.
" Humanitarian aid needs security and that is the absolute priority for these people (aid workers) who need safe and secure routes for the humanitarian aid that has been promised."
The idea of sending an EU force to Congo was floated this week but the pair of envoys played down such a move and called for the 850 peacekeepers in Goma to be reinforced by soldiers of the 17,000-strong existing UN force (MONUC) from elsewhere in the country.
On the main road out of Goma, thousands of civilians, many starving and without humanitarian aid, seized on the lull in fighting to try to regain a refugee camp further north.
"I sleep on the roadside. I don't have blankets, no sheeting. We have to ask the local population for food but it's not enough for all of us," said Simon Tuzere, a 50-year-old farmer.
The latest crisis was spurred when forces led by renegade general Laurent Nkunda pushed towards Goma while government forces retreated and deserted en masse, unraveling months-old agreements to restore peace in the region.
After surrounding Goma, Nkunda's National Congress for the Defence of the People (CNDP) on Wednesday announced a unilateral ceasefire, which has so far held.
Before touring the affected areas to assess the damage, Kouchner and Miliband held talks with Congolese President Joseph Kabila in Kinshasa and called for existing agreements to be implemented.
The International Crisis Group think-tank suggested that the United Nations appoint a special envoy to monitor their implementation and ensure that past diplomatic efforts were not in vain.
Kouchner and Miliband later travelled to Kigali to seek support from Rwandan President Paul Kagame for the ceasefire.
An official at the presidency said the three officials had also discussed a meeting between Kabila and Kagame which could take place in Nairobi.
The pair of EU envoys continued their lightning tour of the region in Tanzania for talks with President Jakaya Kikwete , who holds the African Union 's rotating chair.
The US assistant secretary of state for African affairs , Jendayi Frazer , also met Kagame and raised the issue of Kigali's relations with Nkunda.
While Kigali's Tutsi-dominated regime has repeatedly denied actively supporting Nkunda, also a Tutsi , the weekend's diplomatic shuttling is a measure of Rwanda 's influence on the conflict in Western eyes.
Analysts say there is no doubt that Kigali, frustrated by Kinshasa's failure to disarm a Rwandan Hutu rebel group harbouring key perpetrators of the 1994 genocide against Tutsis, assists Nkunda.
Uruguayan military commander Jorge Rosales, who oversees peacekeepers in Congo , pointed out Friday that rebel "troops are backed by tanks, something that general Nkunda had not had until now."
Nkunda's forces on Saturday held a parade in the town of Rutshuru, which they seized earlier this week, and promised civilians they would improve their living conditions and guarantee their safety.
But as Nkunda's men went on a charm offensive in a bid to encourage the return of the displaced, a rights group said abuses targeting the population should be probed by the International Criminal Court in The Hague.
The International Federation of Human Rights Leagues said retreating government troops had "carried out pillaging, summary executions and rapes on the civilian population" but also cited pillaging by rebel forces.
In Kinshasa , the parliament approved a new cabinet headed by Prime Minister Adolphe Muzito, with the urgent task of ending the conflict in the east.
---
Congo refugees brave rebels rather than stay in camps
(CNN) -- Thousands of people who fled fighting in the eastern Democratic Republic of Congo are crossing back into rebel-held territory because they say conditions at refugee camps are intolerable.
A crowd of refugees gathers at the entrance to a USAID center near Goma in the Democratic Republic of Congo.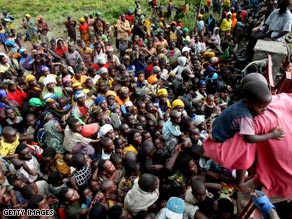 With no food, water or sanitation in the camps, people have decided that it is worth the risk to return to their homes, even though rebels killed and raped many people just last week, residents told ITN's Jonathan Miller, who is near the city of Goma.
Many of their villages have been looted and emptied of people by the rebels, they said.
Roads were filled with people returning to rebel-held territory, carrying their belongings on their heads or on their backs.
However, others, fearful of fresh violence, continued to leave their homes, overwhelming aid centers.
Aid groups were expected to travel into the Congo's rebel-held territory on Sunday to help tens of thousands of people displaced by the latest bout of rebel fighting.
On Saturday, aid groups delivered food and water to a refugee camp north of Goma, traveling through a narrow "humanitarian corridor" the rebels established following a cease-fire with government forces that the rebels announced Wednesday.
British Prime Minister Gordon Brown said the international community cannot allow Congo to become "another Rwanda," where 800,000 died during a 1994 genocide.
Western diplomats shuttled between Goma -- the scene of some of the worst fighting -- and Kigali, in neighboring Rwanda, to meet with leaders in order to get a peace process back on track.
Watch the diplomatic efforts »
"The immediate needs are obvious," said British Foreign Secretary David Miliband and French Foreign Minister Bernard Kouchner in a joint statement Sunday.
"We saw them yesterday. The cease-fire last Wednesday needs to be bolstered," Miliband and Kouchner said. "The humanitarian needs for food, shelter, water and health care must be met through universal provision and secure routes for delivery."
The cease-fire seemed to be holding Sunday, but both sides appeared to be massing troops near the cease-fire line.
Government soldiers flew in from the capital Kinshasa and deployed in the jungle, and rebels were out in force on their side of the line.
ITN reporter Miller heard intermittent firing from the hills that mark the line where the two sides face off only a few hundred yards apart. A small contingent of United Nations troops in the area donned flak jackets and helmets in response.
Miller said it was not clear if the two sides were firing at each other.
The latest fighting broke out on October 24 when Congolese rebels led by renegade Tutsi General Laurent Nkunda launched renewed attacks in the eastern province of North Kivu.
It came days after a tenuous week-old U.N.-brokered cease-fire between rebels and government forces fell apart.
The fighting between Nkunda's rebels and Congolese army regulars displaced thousands of civilians almost immediately, the United Nations said.
Many of the displaced fled to Goma, the capital of North Kivu, which borders Rwanda and Uganda.
Nkunda is the leader of the National Congress for the Defense of the People. His rebel forces declared a cease-fire late Wednesday after four days of fighting.
The fighting is based on ethnic grievances.
Nkunda says he is fighting to protect his Tutsi community from attacks by Rwandan Hutu rebels.
During the 1994 genocide in Rwanda, the country's Hutu majority killed 800,000 Tutsis and moderate Hutus, according to the United Nations.
When Tutsis came to power in Rwanda, many Hutus crossed the border into Congo . They were afraid to return home, fearing they would be targeted for revenge by Tutsis, so they remained in the jungles of eastern Congo, where they preyed on local residents.
In May 2005, it was reported that Rwandan Hutu rebels in eastern Congo carried out hundreds of summary executions, rapes, beatings and kidnappings of Congolese civilians in the province of South Kivu, according to GlobalSecurity. org.
Nkunda, a Tutsi, has repeatedly blamed the Congolese government for failing to protect the Tutsis from attacks by Rwandan Hutus.
---
Hungry Congo refugees angry no food in UN convoy
By MICHELLE FAUL, Associated Press Writer
KIBATI, Congo – Hungry refugees cheered when the first humanitarian convoy in a week arrived at their camp Monday, but the jubilation turned to anger when U.N. workers dumped only soap and plastic jerry cans instead of food and sped on past rebel lines.
U.N. officials conceded that hunger at the Kibati camp, where tens of thousands sheltered from fighting in eastern Congo, was dire but said the first priority was to resupply medical clinics looted by retreating government troops.
"Are we supposed to eat this?" demanded Boniface Ndayumujinya, an elderly man waving a bundle of spring onions brought by a friend. He said he was with eight family members who had not eaten in five days.
U.N. peacekeepers escorted the 12-vehicle convoy carrying medical supplies north from the provincial capital of Goma, past Kibati and on to Rutshuru, a village 55 miles north of Goma.
Both the Congolese army and rebel leader Laurent Nkunda assured the convoy's safe passage, said Gloria Fernandez, head of the U.N. Office for the Coordination of Humanitarian Affairs in eastern Congo.
Medical supplies and tablets to purify water for the hospital in Rutshuru were the priority, she said. She said the other health clinics north of Goma had been "looted and completely destroyed," leaving the Rutshuru hospital as the only operating medical facility in a region of hundreds of thousands of people.
Fernandez said some 250,000 refugees had been displaced by the recent fighting in the east of this vast central African nation.
Late Monday, the U.N. Office for the Coordination of Humanitarian Affairs at U.N. headquarters in New York said an aid convoy had reached Rutshuru. The convoy carried first aid and basic medicines to re-open health centers in the region. The U.N. said some of the camps around Rutshuru had been destroyed.
The soap and plastic jerry cans for water distributed in Kibati on Monday were meant to help with sanitation amid fears of a cholera epidemic.
Food, however, was the critical issue for most people.
"Everybody is hungry, everybody," said Jean Bizy, a 25-year-old teacher who watched as the U.N. convoy stopped to deliver a sack of potatoes to U.N. peacekeepers in Rugari. Bizy said he had been surviving on wild bananas for days.
Thousands of children lined up for hours Monday expecting to get high-energy biscuits but were only given tokens to be used to get food later, said Onesphore Sematumba, of local think tank Pole Institute.
"We really need to rethink humanitarian aid," Sematumba said. "If you can't help people, don't create false hopes."
U.N. officials said the token system was necessary because of the unrest that broke out when aid workers tried to distribute biscuits last week.
"Friday and Saturday were extremely difficult," said Jaya Murthy, a spokesman for the U.N. Children's Fund. "Some kids were even injured in the crush. We want to avoid a stampede that could even perhaps cause death."
A World Food Program official in Rutshuru, asked about the lack of food, said the group had supplies that would be delivered as soon as possible but reminded reporters that two truckloads of food was destroyed by soldiers before the town fell last week.
Nkunda went on the offensive Aug. 28 and brought his fighters to the edge of Goma last week before declaring a unilateral cease-fire.
Early Tuesday, a U.N. official accused Rwanda 'a army of firing tank shells and other artillery across the border last week at Congolese troops fighting Nkunda's force.
Congo's government has repeatedly accused Rwanda of supporting Nkunda, but the comment by U.N. spokeswoman Sylvie van den Wildenberg in Goma was the first time the U.N. has publicly said Rwanda was overtly involved in the conflict. Rwanda denies its military is involved.
On Friday, Gen. Jorge Rosales, chief of Uruguay's army, said rebel troops "have tanks and heavy artillery" from Rwanda and that intelligence reports "indicate there are soldiers from that country integrated in the rebel forces."
Despite fears the war could widen, combat has subsided in recent days.
The conflict is fueled by festering ethnic hatred left over from Rwanda's 1994 genocide and Congo's civil wars in 1996-2002. Nkunda claims the Congolese government has not protected ethnic Tutsis from the Rwandan Hutu militia that escaped to Congo after helping slaughter a half-million Rwandan Tutsis.
Nkunda, who defected from the army in 2004, says he is fighting to liberate all of Congo from a corrupt government.
All sides are believed to fund fighters by illegally mining Congo's vast mineral riches, giving them no financial incentive to stop the fighting.
U.N. Secretary-General Ban Ki-moon said Monday that he expected to meet this weekend or early next week with Congolese President Joseph Kabila and Rwandan President Paul Kagame to discuss ways to resolve the conflict. He said both had agreed to the meeting.
In what appeared to be a political move, Nkunda declared he was opening a humanitarian corridor to allow aid through and to let refugees go home. To ease food shortages , rebels on Monday allowed farmers to reach Goma in trucks packed with cabbages, onions and spinach.
Government troops, who looted and raped in Goma as they retreated last week, have not ventured much beyond Kibati, 4 miles outside the city. Some are living among the refugees, creating a tense and dangerous situation.
Both government and rebel forces are accused of gross human rights abuses .
Streams of refugees have thronged the roads around Goma trying to get home, lugging babies and bundles of belongings, guiding children, pigs and goats.
Another stream moved in the other direction, south from camps around Rutshuru that the refugees said the rebels were forcing them to leave at gunpoint.
U.N. officials say the rebels have burned at least three refugee camps around Rutshuru, apparently wanting to make sure people do not return.
The rebels deny this, saying they told people they could go home now that they have "liberated" the area.
Nkunda wants direct talks with the government. He has especially complained about a $9 billion agreement in which China gets access to Congo's valuable minerals in return for building a highway and railroad.
Nkunda's rebellion has threatened to re-ignite the back-to-back wars that afflicted Congo from 1996 to 2002, drawing in a half dozen African nations.
___
Associated Press writer Elizabeth Kennedy contributed to this report from Nairobi, Kenya.